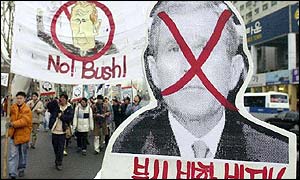 ---
Revolutionary and progressive organizations in Nepal, Bangladesh and Pakistan protested after the governments there agreed to let their airspace be used for U.S.-launched attacks. "The U.S. has itself indulged in killing the people of poor countries, labeling them as 'terrorist,'" said Nepal Communist Party (Maoist) leader Kirshna Bahadur Mahara. In India, the Communist Party (Marxist-Leninist)-Liberation called for a week of protests against Bush in Delhi and other cities.
---
On Sept. 19, over 200 representatives of Arab, Muslim and South Asian groups rallied in Washington, D.C. They gathered at the memorial to the 120,000 Japanese-Americans forced into internment camps after the 1941 attack on Pearl Harbor. "A turban does not signify a terrorist," said one participant, Tejpal Singh Chawla of the Sikh Mediawatch and Research Task Force. A Sikh immigrant from Punjab, India, had been killed by a racist gunman Sept. 15. At least three other immigrants have died in racist attacks.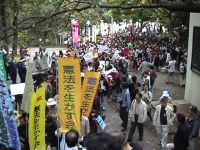 ---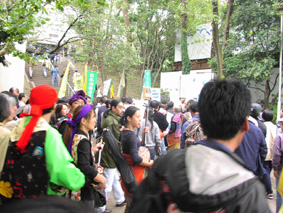 ---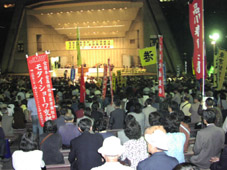 ---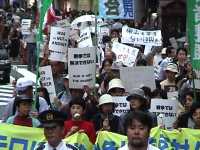 ---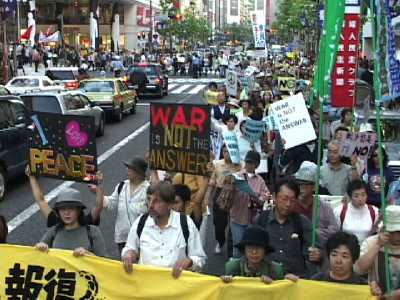 ---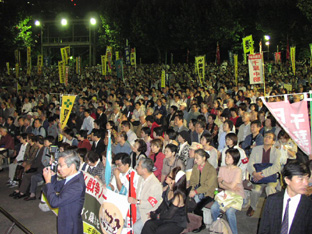 ---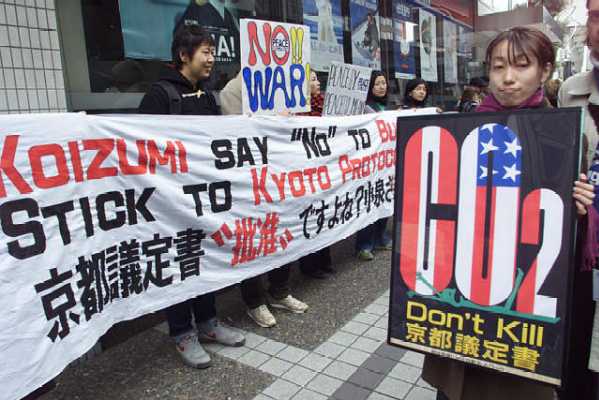 ---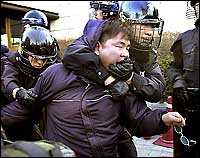 ---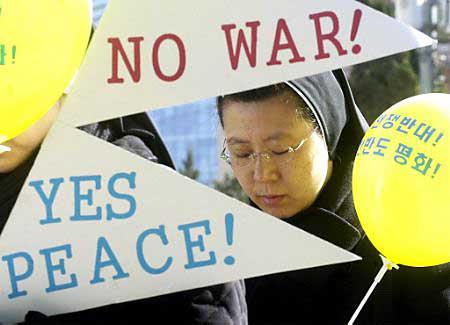 ---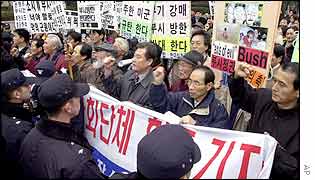 ---
An unidentified man protests against President Bush beside a poster that reads: "Get Out Bush," in Lima, Peru Tuesday, March 19, 2002. Several unions and grassroots groups say they will stage street protests before and during the visit of Bush to Peru on March 23. (AP Photo/Silvia Izquierdo)
---
A leftist protester holds a poster denouncing U.S. President George Bush in front the U.S. Embassy, in Lima, March 19, 2002. Unions say they will stage street protests before and during the visit of U.S. President George W. Bush to Peru on March 23. REUTERS/Mariana Bazo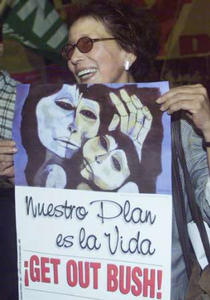 ---
Peruvian leftists protest against U.S. President George Bush in front the U.S. Embassy, in Lima, March 19, 2002. Unions say they will stage street protests before and during the visit of U.S. President George W. Bush to Peru on March 23. REUTERS/Mariana Bazo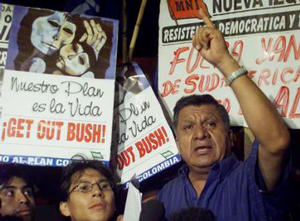 ---
Peruvian leftists protest against U.S. President George Bush in front the U.S. Embassy, in Lima, March 19, 2002. They are holding a poster that reads: "Bush and Imperialism get out." Unions say they will stage street protests before and during the visit of U.S. President George W. Bush to Peru on March 23. REUTERS/Mariana Bazo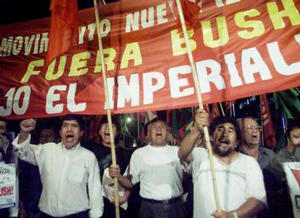 ---
During Mr Bush's presence, demonstrators stressed their opposition to his missile defence plans......Others attacked America's use of the death penalty Table and chairs from local cafes in the downtown area were burnt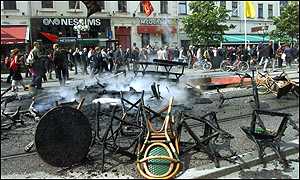 ---
Medics had to attend to the injured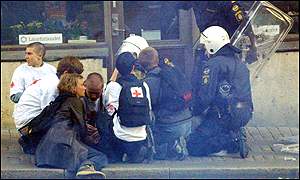 ---
...and then took their aim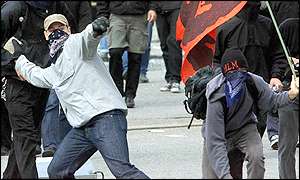 ---
Riot police were on the receiving end of the cobblestones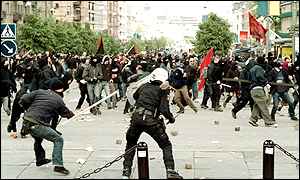 ---
Among the protesters were anti-globalisation activists, socialists, environmentalists and others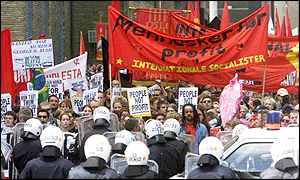 ---
Tony Blair has promised that the violence that has marred the EU summit in Gothenburg will not disrupt democracy.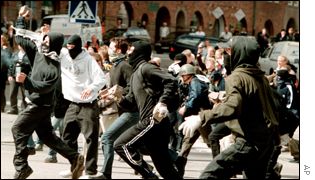 ---
---
---
Grief and mourning turned to action Sept. 21. Earlier in the week community groups and progressive organizations met at the embattled Charras Community Center and called for a march from Union Square to Times Square to protest Bush's war plans.

Over 2,500 people marched on the sidewalks, chanting: "Bush says war, New York says no!" Hundreds of police used horses and clubs to block the peaceful, mostly young marchers from entering the area around the Times Square Recruiting Station- the traditional site of anti-war rallies. Five people were arrested.

The slogans were varied, but all opposed the war. The IAC's chants of 'No more victims, no more violence, no more war' and 'No to war and racism' were popular. Another was, 'Stop the war, stop the attack, that won't bring our loved ones back.' Banners read 'No racist war for oil profits' and 'Don't use my grief as an excuse for more grief.'

What was particularly noticeable was the support and encouragement the march got from passers by and people in bars, restaurants and coffee shops. Counter- protesters were few and far between.

Anti-war activities continued over the next two days, with a Sept. 22 rally at Union Square and a teach-in Sept. 23 sponsored by Al-Awda, the Palestinian Right of Return Coalition.
---
GOTHENBURG, Sweden -- Up to 200 demonstrators have been arrested after a protest held while European leaders met President George W. Bush.
About 15,000 protesters -- angry over everything from global warming and globalisation to the death penalty -- demonstrated against Bush's visit to Sweden's second city amid massive police security measures, Reuters reported.
Some dropped their trousers opposite Bush's hotel in what organisers billed as a "mass mooning."
More than 200 people were arrested on Thursday night after more than 1,000 protesters faced off with police at a blockaded a school for several hours, Associated Press said.
Officials said some of the 400 activists inside the school planned violence during demonstrations against Bush and the European Union and would not allow them to leave the building to take part in a rally.
When their supporters approached the building and began pounding on metal containers that the police had placed around it, the police pushed the crowd back and arrested more than 200 protesters who resisted, police spokesman Jan Strannegoerd said.
Five policemen were slightly injured, he told AP.
Earlier many demonstrators hurled paving stones and bottles at armed police who had surrounded the school. At one point two police cars were smashed.
In one of the biggest police operations in Swedish history, crowds were kept well away from the summit venue in the city centre.
Fearing a re-run of anarchist violence that has dogged international gatherings since the 1999 Seattle World Trade Organization conference, police sealed off a large perimeter around the centre with a two-metre-high double fence and barricaded approach roads with freight containers.
There was no one issue uniting the protesters -- a fact apparent as the leaders of more than 80 protest groups promised to keep their rallies peaceful.
The Swedish news agency TT reported that police had stepped up checks of foreigners and had detained 10. They included four Germans stopped Thursday morning on a bus outside Gothenburg, TT said.
The protests were spearheaded by ATTAC, a French-based group that champions a tax on speculative transactions to raise billions for poor countries.
Some groups oppose specific U.S. policies, such as the death penalty and Bush's rejection of the Kyoto agreement to limit greenhouse gas emissions.
Many protesters are concerned that global corporations have gained too much control and exploit the poor and the environment.
Much of their anger is directed at the United States, home of many of the world's largest multinational corporations.
"I think another world is possible," activist Hans Abrahamsson told Reuters.
An estimated 7,000 Iranian exiles supporting the Iraqi-based People's Mujahideen armed opposition movement rallied peacefully against alleged human rights abuses in Iran.
"They are appealing that the leaders would not shake hands with the murderers of the Iranian people," protest leader Nasser Rashidi told Reuters.
Thousands of environmental activists demonstrated against Bush, a man they dub the "Toxic Texan" for his refusal to accept the Kyoto treaty on climate change.
Earlier, Swedish Prime Minister Goeran Persson attempted to placate would-be protesters with a statement in which he called on the need for a strong EU to balance U.S. power.
The statement from the centre-left prime minister and current EU president said: "It's (the EU) one of the few institutions we can develop as a balance to U.S. domination."
Persson noted that the EU shared many common values with the United States, but they differed on moral issues such as on the death penalty, dramatised this week by the execution of Oklahoma City bomber Timothy McVeigh.
Bush's first official tour of Europe has been met with protesters throughout.
Even before he arrived in Spain for the start of the tour, earlier this week, there had been protests in Madrid against his administration's environmental policies.
"We want to tell him that he is not welcome here if he keeps with his policy to reject the Kyoto Protocol, the first and only international agreement against climate change," said one demonstrator representing Greenpeace.
But Bush's presence in Madrid brought further protests, as crowds chanted "Stop Bush" and "Bush go home!" outside the U.S. Embassy as he rested inside.
Others carried banners, with one saying: "The earth is our mother, not your supermarket."
In Gothenburg, police dragged 40 activists from a protest camp near the site of the EU summit.
Swedish police also detained five people suspected of planning sabotage, but declined to say what they were planning or who was to be the target.
In Norway, about 10 Greenpeace activists boarded a U.S.-bound oil tanker as it loaded oil at a refinery.
The environmental campaign group later issued a statement urging the EU to ratify the Kyoto Protocol without the U.S..
"This is the first international environment agreement that the US has walked away from, and a very profound domino to fall," said Michel Raquet, Greenpeace International climate spokesperson.
"We ask again that the EU here at this meeting declare publicly and strongly that it will ratify the Kyoto Protocol without the US, now that Bush has abandoned his country's responsibilities to the international climate agreement.
"The EU must respect public opinion and prove that they are listening to the people who voted them into power and ratify the Protocol with or without the USA by the end of the year," said Raquet.
Another band of anti-Bush protesters boarded a tanker off La Havre, France, on Monday, while in Brussels, hundreds protested outside the U.S. embassy to Belgium.